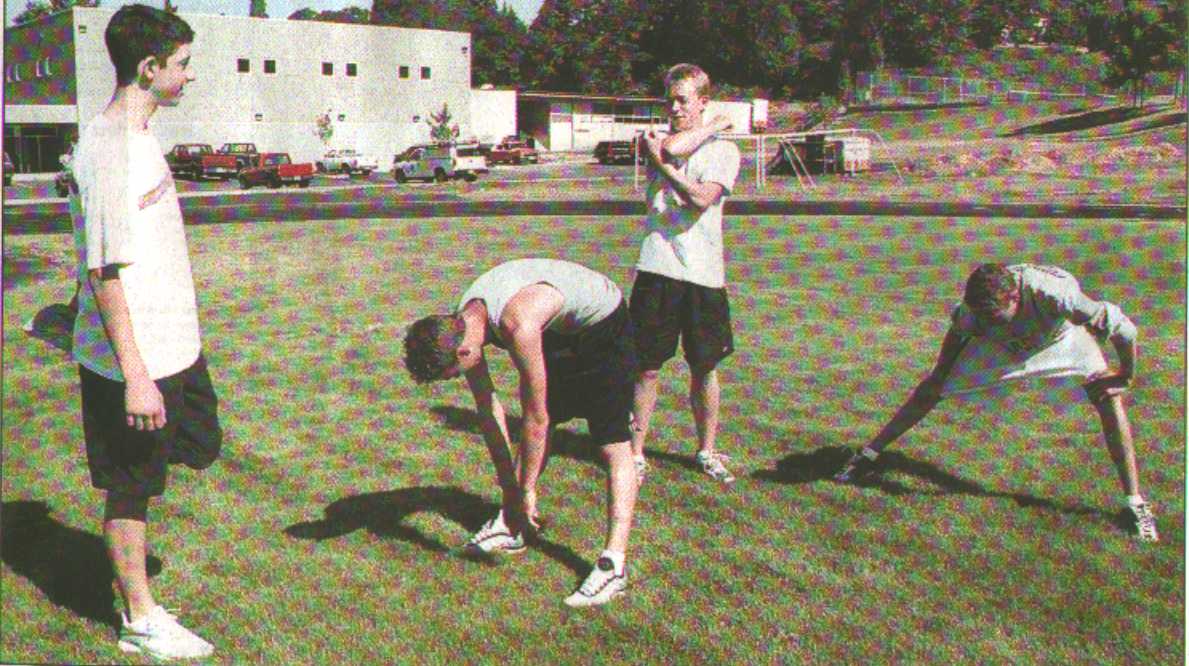 Clackamas Review
Thursday, August 23, 2001
TRL Boys cross country Preview

Putnam distancemen favored to repeat

The Kingmen return their top four runners and a lot of depth
by John Denny

Milwaukie -- this Putnam with its top four winners returning from last year is everyone's pick to finish on top in Three Rivers League boys cross country in 2001.
"Putnam will be hands down the number one team," said West Linn coach Scott Spear. "Everyone else was hit by graduation."
"We lost some great leadership [in graduate " Kalen Abbott],"said Oregon City Coach Terry Pyle. "Were going to be down a little, and right now I think we've got to give Putnam the edge [as favorite]. But I'm not going to count my guys out."
The Pioneers were two-time defending district champions until last year, when Putnam went to the six man to unseat the Pioneers. It was the first time a Putnam boys' team that won a district cross-country title since 1981.
"I know we're going to be a top team [in the TRL], I don't know if we're going to beat the top team," said Putnam senior leader Jake Laminack. "One of our goals was to train all summer, and some of the kids didn't do that." but
The Kingsmen returned five of their top seven runners from last year, including the top four. Laminack is back to lead the Kingsmen. Seniors to Devin Graham, Russ Borne and Ryan Loveall return as a Kingsmen's No. 2, No. 3 and No. 4 runners respectively. they all placed in the top 20 at last year's district meet. No other team returns more than one runner from the top 20.
The other varsity returnees sophomore Jordan Pommerening, who was Putnam's seventh man as a freshman. Also pushing for spots are junior Danny Black; and sophomores Riley Luettgrodt, Brett Welches, Kevin Regan and Michael Ryan.
Black won last year's district varsity II race; Welches, Regan and Ryan all finished in the top five at last year's district jayvee race.
Luettgrodt, who turned out for football instead of cross-country's last fall, was Putnam's top freshman distance runner in track last spring.
"Riley's decided that running's what he does best," said Putnam coach Brent Eggers. " He should be a top five runner for our varsity and this year. "
Laminack, as the Kingsmen leader, has ambitious goals for himself and his team.
"We'd like to get a top team place at state, because last year we finished last," said Laminack. "I think the experience down there last year will make us better, plus we're running in more big meets to better prepare us."
Laminack said that individually he'd like to place in the "top 8 to 10" at state.
"I'd never sell Jake short," said Eggers. "He worked hard all summer and this is the first year he's bee able to train full-time for cross country. He's pretty dedicated."
Eggers said that before this year, Laminack split his time between soccer and cross-country. This fall, Laminack says he's dropped soccer to focus on cross country."
The one concern Eggers has is the health of his runners. He said that the Graham "broke his back" snowboarding and is "questionable".
Eggers said he expects the biggest turnout for cross country in school history with 50 boys and girls participating.
The distance in Kingsmen distance boss predicts that West Linn, Oregon City and Lake Oswego should give his Kingsmen the toughest competition in the league.